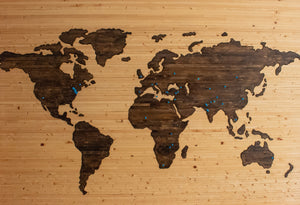 Every aircraft flooring order we make is custom-made to the selections and specifications chosen. With 4 different flooring material options (feat...
Customer Testimonials
Just wanted to say thanks for the great work in getting a carpet kit for my Cessna 182D with a Selkirk interior completed. You guys were awesome to work with, and the carpet fits perfectly! ~Chris L.
I have received the carpet in Oshkosh on time. I am very happy with the quality and I will definitely recommend you to my pilot friends. Your customer service is fantastic! Thanks from a happy customer in Munich, Germany. Thomas
Impeccable service… Great to deal with an obviously professional company. I am an extremely happy customer and would be definitely doing business with you again and will be highly recommending you to my fellow pilots here at my club. David
I bought a floor mat and the quality was terrific. It's difficult to know your quality via the website. The floor mat is a secret weapon. Shocking how it awakens a midlife interior into something fresh. It completely covers the most worn portion of the existing carpet. David
We received the floor mat today, and we are thrilled! Thank you and your team for fixing this for us so quickly. It is in better shape than before the tear. You exemplify customer service, and we are proud to have your product in our airplane. Thank you again! Cory
Hi Mike, Just wanted to follow up regarding the interior. It looks fantastic! If any prospective customers would like a reference, feel free to have them contact me. It was an absolute pleasure working with you! Thanks, Tom
Your firm is focused on producing a top quality product that meets or exceeds the customer's expectations. SCS keeps in personal contact with the customer to make sure that the customer is absolutely getting what they want. -Mike
I've got to be honest with you Mike, that embroidery and the blue thread you picked looks FANTASTIC!!! WOW! You guys did a great job. –Steve
Thank you, both so much for the beautiful job you did installing the new headliner in my 1967 Buick Skylark. We already showed it off at a car show and had inquiries as to who installed it. Also, thank you for replacing the rear, passenger interior light lens. That was a very pleasant surprise. It meant a lot to me that you took the time and expense to do that, and you wouldn't charge me for it. –Kathy
Mike is very responsive as we had a couple of suggestions which he incorporated within 24 hours and had our covers back to us overnight. I hope he sells a ton of them because he deserves the business. –Tom
Just thought I would let you know we picked up our Eclipse yesterday and installed the carpet runner and seat covers! Super job! They are all perfect and love the way the 4 seat configuration turned out. -Shari
… Just to say thanks for my floor mats for my PA28 Archers –they all fit perfectly and look great! –Derick
The mats are installed and look great, fit is perfect. … I flew some passengers last week who commented on how great they look. –Tom
received the carpet for the Matrix. …they are great and fit perfectly -Carlos
...and just to let everyone know, you can't go wrong with SCS Interiors. I know several of us have their mats and have been really happy. I had some problems developing on the border of one of the wing mats and a tear from the grips on the passenger side front mat. I sent them both back to SCS when the plane was in for annual, and they were back and completely restored way before the plane was done. And the work was done at no cost, which in today's world is unheard of. The quality is great, the customer service is even better. I can't think of another investment that has done so much to help keep my wings and interior looking brand new. -Steve M.
…the floor mats arrived, and I gave them to Jason last week. He was very pleased with the finished product. I appreciate all of your hard work and efforts to get the logo worked out with him. –Marcia
Just wanted to let you know that the front and rear mats fit perfectly for my Arrow. Thanks again for your great service. -Cary